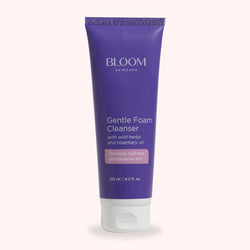 CLEANSE, BRIGHTEN, AND SOOTHE YOUR SKIN
Introducing our Gentle Foam Cleanser, a gentle yet effective formula that cleanses, brightens, and soothes the skin. Formulated with a unique blend of key ingredients like Avena Sativa Kernel Flour, Arbutin, and Lemon Fruit Extract, this cleanser is designed to effectively remove impurities while also brightening and soothing the skin.
WHY WE LOVE IT:
We love this cleanser because it is formulated with a gentle cleansing base that effectively removes impurities and makeup without stripping the skin of its natural oils. The addition of Avena Sativa Kernel Flour, a gentle exfoliating ingredient, helps to remove dead skin cells, and Arbutin and Lemon Fruit Extract, both of which are natural brightening ingredients, helps to brighten the skin.
RESULTS:
Gently removes impurities and makeup
Exfoliates dead skin cells
Brightens the skin
Soothes the skin
Hydrates the skin
SIZE:
125ml
HOW TO USE IT:

Wet face and apply a small amount of cleanser to the palm of your hand. Gently massage into the skin and then rinse with warm water. Use daily in the morning and at night.
KEY INGREDIENTS:
Avena Sativa Kernel Flour: a gentle exfoliating ingredient that removes dead skin cells
Arbutin: a natural brightening ingredient that helps to brighten the skin
Citrus medica limonum (Lemon) Fruit Extract: a natural brightening ingredient that helps to brighten the skin
Glycyrrhiza Glabra (Licorice) Root Extract: rich in anti-inflammatory and antioxidant properties that help to reduce the appearance of dark spots
Sodium Hyaluronate: a powerful hydrating ingredient that plumps and hydrates the skin
Citrus Reticulata (Mandarin) Peel Oil: a refreshing and uplifting essential oil that helps to brighten the skin
Citrus sinensis (Orange Sweet) Oil: an essential oil that helps to brighten the skin