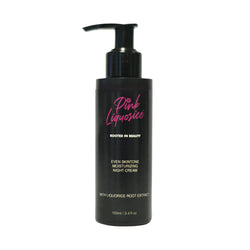 Pink Liquorice SA
Even Skintone Moisturizing Night Cream
REGENERATIVE EVEN SKINTONE NIGHT MOISTURISER FOR ALL SKIN TYPES
This luxuriously nourishing facial cream will help restore and transform your complexion while you sleep. It feeds the skin with essential nutrients for faster cellular turnover and maximum hydration. This rich moisturiser is formulated with Liquorice root and Glutathione to reduce pigmentation/dark marks and uneven skin tone and speed up cellular turnover to leave your skin looking healthy and radiant
WHY WE LOVE IT:
This deeply nourishing night treatment cream supplies vital nutrients while you sleep. Powerful clinically active ingredients and nourishing Kojic dipalmitate and Glutathione feed the cells to encourage faster cellular turnover. 
RESULTS:
Increases cellular turnover

Reduces hyper-pigmentation and dark spots
Diminishes signs of ageing


Comforts skin and rejuvenates
INGREDIENTS: 
Aqua, shea butter, sweet almond oil, evening primrose oil, neem seed oil, rosemary leaf extract, lemon extract, olive fruit oil, kojic dipalmitate, arbutin (bearberry extract), glutathione, glycyrrhiza glabra (liquorice root extract)
This product does not require refrigeration. To extend the potency and preserve the fresh ingredients store in a cool room away from direct sunlight.
SIZE:
100ML 
HOW TO USE ME:
Apply a light layer to freshly cleansed skin avoiding the delicate eye area. For best results, use after applying Advanced Brightening Solution Serum
PLEASE NOTE:
We're improving on our formulas! Our website is up to date with the latest ingredient lists, but please note that our labels are a work in progress. If you're uncertain, please don't hesitate to get in contact.