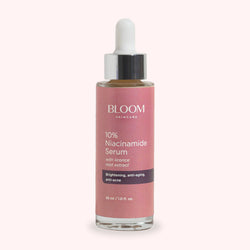 BRIGHTEN, REJUVENATE AND PROTECT YOUR SKIN
Introducing our 10% Niacinamide Serum, a powerful formula that targets a variety of skin concerns. Formulated with a unique blend of key ingredients like 10% Niacinamide, liquorice root extract, and hyaluronic acid, this serum is designed to brighten, rejuvenate, and protect the skin.
WHY WE LOVE IT:
We love this serum because it is formulated with a high concentration of Niacinamide, which is a form of Vitamin B3 that has been clinically proven to improve the appearance of fine lines and wrinkles, hyperpigmentation, and redness while also helping to strengthen the skin barrier. The addition of liquorice root extract, which is rich in anti-inflammatory and antioxidant properties, helps to reduce the appearance of dark spots, and hyaluronic acid, which is a powerful hydrating ingredient, helps to plump and hydrate the skin.
RESULTS:
Brightens the skin
Reduces the appearance of fine lines and wrinkles
Reduces the appearance of dark spots
Reduces redness
Improves the appearance of hyperpigmentation
Rejuvenates the skin
Protects the skin barrier
Hydrates the skin
SIZE:
30ml
HOW TO USE IT:
After cleansing, apply a small amount of the serum onto the face, gently patting it in until it is fully absorbed. For best results, use daily in the morning and at night.
KEY INGREDIENTS:
Niacinamide (10%): a form of Vitamin B3 that brightens and rejuvenates the skin
Glycyrrhiza Glabra (Licorice) Root Extract: rich in anti-inflammatory and antioxidant properties that help to reduce the appearance of dark spots
Sodium Hyaluronate: a powerful hydrating ingredient that plumps and hydrates the skin
Citrus medica limonum (Lemon) Fruit Extract: contains Vitamin C which helps to brighten the skin and improve the appearance of hyperpigmentation
Sodium Ascorbyl Phosphate: a stable form of Vitamin C that brightens the skin and improves the appearance of hyperpigmentation
Allantoin: a soothing ingredient that helps to calm and hydrate the skin
Citrus Reticulata (Mandarin) Peel Oil: a refreshing and uplifting essential oil that helps to brighten the skin
Citrus sinensis (Orange Sweet) Oil: an essential oil that helps to brighten the skin