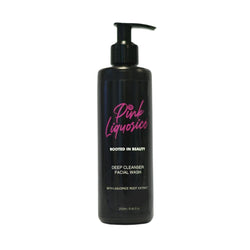 Pink Liquorice SA
Brightening Deep Cleanser Facial Wash
PURIFYING DAILY CLEANSER FOR BLEMISH FREE SKIN
This daily cleanser gently purifies and cleanses the skin, naturally, whilst also reducing the appearance of breakouts and blemishes, and helping to prevent future breakouts. Keep your skin clean, blemish and spot free.
WHY WE LOVE IT:
Scientifically proven to wash away acne-causing bacteria, excess oil and impurities without over-drying or irritating skin. 
RESULTS:
Clear and healthy-looking skin
Reduced acne and pimples
Brightens skin and evens skin tone
Clears dark spots
INGREDIENTS:
Purified Water, kojic dipalmitate, arbutin (bearberry extract), glutathione, Vitamin C,  glycyrrhiza glabra (liquorice root extract)
SIZE: 250MLS.
RECOMMENDED APPLICATION:
1. Dispense a few drops onto a damp cotton wool pad and wipe over the face and neck. Remove thoroughly with a warm face cloth. Splash with cool water. Pat dry. 
or:
2. Apply a light layer to dry skin. Wet your face cloth with warm water. Wring out excess water and hold the face cloth over your skin for a minute. (the heat in the cloth creates a steamer effect to open and clean pores). Wipe off thoroughly.
For best results, apply our Advanced Brightening Solution Serum after using the Deep Facial Cleanser.
PLEASE NOTE:
We're improving on our formulas! Our website is up to date with the latest ingredient lists, but please note that our labels are a work in progress. If you're uncertain, please don't hesitate to get in contact.